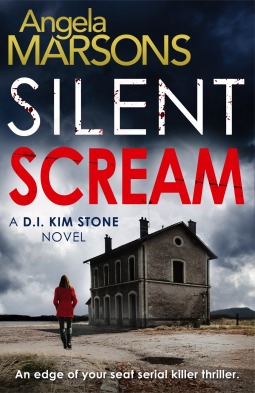 *Copy provided by Netgalley in exchange for an honest review.*
Couple of weeks ago I had an opportunity to read this debut crime novel and I must say that I was so impressed. I never expected a whirlpool of events that would turn my mind up-side down as a reader. This book did exactly that. Angela Marsons writes even better than many of the mystery crime writers I've read. So, let me tell you something about the book.
Teresa lives her last years in fear. She has divided her life to years B.C. (before Crestwood) and years after Crestwood. She did something bad and she knows that she'll be punished one day. And that day has come.
D.I. Kim Stone finds the body of Teresa drowned in the bath tub. The body shows obvious marks of pushing down. Someone drowned Teresa in her own bath tub.
When another employee in Crestwood is found dead, Kim suspects that something more is going on. Two people that worked in a children's foster home are found dead within couple of days. Why? Why would someone want to kill them? Is it some kind of revenge? For what? What have they done?
Near what used to be children's home, police finds another body, buried long time ago. Body of a child. Kim starts to gather the pieces of the puzzle.
D.I.Kim Stone is well described as a main character. She is tough, but also has a wild and also a soft side. She lives alone with no family, but has a passion for motorbikes, which is unusual for a woman. Life was hard for her, and she built a wall around her feelings, but those same feelings sometimes find their way to rise on the surface.
Ms. Marsons built a real puzzle when it comes to murders and killers. She created a story that goes back ten years in past when it all started, then goes back in present day where the consequences are. The story has turn-overs on every corner and makes you wonder till the very last page. Adding Lucy as a character really made the story more sensible and very emotional, not just filled with cold blooded murders. Who is Lucy? Well, you must read the book. Because it is a must-read.
My opinion : 5 / 5.
You can buy the book on Amazon.com and Amazon.co.uk.